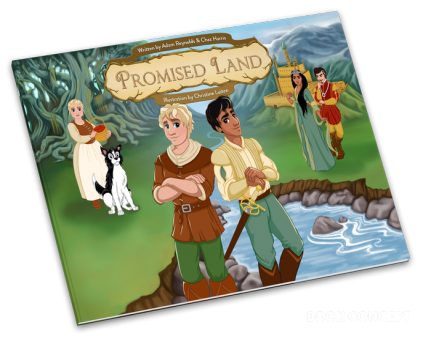 Promised Land is a new LGBT themed children's book written by Adam Reynolds & Chaz Harris and illustrated by Christine Luiten. 
The authors ran a successful crowdfunding campaign on Kickstarter to cover the cost of illustration, design and printing of a first edition.
Promised Land is now available to buy.
The Story
When a young prince and a farm boy meet by chance in the forest, their newfound friendship soon blossoms into love. However, things get complicated when the Queen's sinister new husband seeks control over the enchanted forest that the farm boy's family are responsible for protecting.
Authors Statement
Growing up with very little in the way of LGBT stories in print or on screen, we decided to write the story that our eight year old selves needed. During our childhoods and teen years, we had no role models or stories that represented the notion that "happily ever after" could even exist if you're gay. As such, we felt there should be more stories like that, and so we wrote one together.
Promised Land is not just a story for gay youth. The sexuality of our main characters is never questioned - they merely happen to be two young men who meet and fall in love.
Our goal has always been to create a story that provides understanding and acceptance by showing young people that, regardless of what gender they are attracted to, love is love.